At CAC Mechanical Services Inc., indoor air quality is a top priority. We recognize the impact on health, safety, budget, and comfort. By taking a solutions based approach, we deliver sustainable options and improvement. Our comprehensive resources ensure the right product and/or strategy to resolve any type of concern with all sizes, ages, and configuration of homes in Salem, NH and surrounding areas.
Featured Product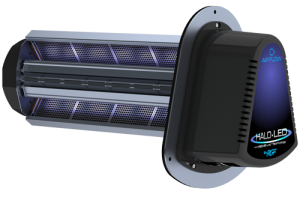 HALO-LED™ Whole Home In-Duct Air Purifier
The HALO-LED™ Whole Home In-Duct Air Purifier offers air purification for every cubic inch of air conditioned space in your home. Using REME-LED™ technology, this system reduces surface and airborne contaminants and pollutants through an in-duct, whole home system. For questions about this system or to schedule an appointment, please call us at 603-267-0484.
Efficient Indoor Air Quality Services
CAC Mechanical Services Inc. specializes in a full spectrum of air quality accessories and services, including duct system maintenance, repair, and installation. Whether you're taking preemptive steps or faced with a specific complaint, our OSHA-certified team is here to help. We offer the leading innovations from prominent manufacturers, combating excess/insufficient humidity, airborne contaminants, odors, fumes, and much more.
Call on our team for your indoor air quality solutions!
CAC Mechanical Services Inc. encourages you to contact us at 603-267-0484. We'll make sure you breathe with confidence. As a third generation family owned and operated company, we make the integrity of homes our business. Trust your indoor air quality with effective service from CAC Mechanical Services Inc. throughout Salem, NH, Pelham, NH, Windham, NH, and Methuen, MA.
---